[ad_1]

Russian President Vladimir Putin's appearance during a Thursday meeting with his defense minister has left people questioning the leader's health status.
Video clips and still images of Putin's conference with Defense Minister Sergei Shoigu have been making the rounds on social media. While the Kremlin indicated that the two met to discuss Russia's military strategy in Mariupol, a strategic port city in Ukraine where Putin has declared "success," onlookers from afar have focused on how the president looked.
In the images, Putin can be seen gripping the table between him and Shoigu, as well as slouching down in his chair. Speculation soon spread that he could be in bad health, though rumors have previously surfaced in recent months that the leader could be suffering from an illness. The Kremlin earlier this month denied that Putin had undergone surgery related to thyroid cancer, online outlet The Moscow Times reported on April 1.
"Is this just me or Putin really looks less healthy and sound with each and every day of the war?" Illia Ponomarenko, a reporter for the website The Kyiv Independent, tweeted. "I can see a drastic difference between now and late February."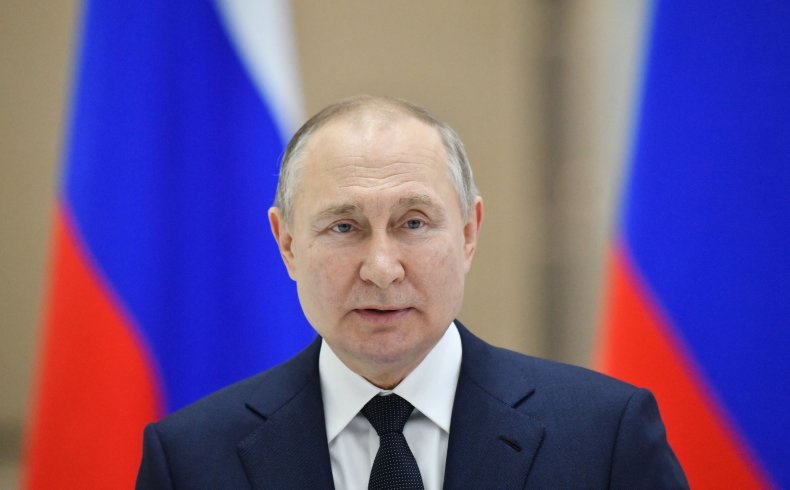 Frida Ghitis, a contributor to CNN, also took note of Putin's appearance.
"Putin, sinking in his chair, gripping the table. He's okay, right? Healthy?" Ghitis wrote.
Louise Mensch, an author and former member of the Parliament of the United Kingdom, linked to an article she wrote last month that speculated Putin may be hiding an illness.
"PS: I reported, Vladimir Putin has Parkinson's disease and here you can see him gripping the table so that his shaking hand is not visible but he cannot stop his foot from tapping," she tweeted.
The well-known economist and author Anders Åslund felt both men in the meeting seemed to look sick.
"Putin's meeting with Shoigu today shows both depressed & seemingly in bad health," Åslund said. "Shoigu has to read his comments to Putin & slurs badly, suggesting that the rumors of his heart attack are likely. He sits badly. Poor performance. Worth watching."
On April 1, the Russian news outlet Proekt published an investigative story that claimed Putin is routinely seen by a team of doctors. The site alleged that two ear, nose, and throat specialists have regularly visited Putin, as has an oncology surgeon who specializes in thyroid cancer. Proekt's report also alleged that Putin had been using an alternative therapy that involves bathing in blood extract from severed deer antlers.
The Moscow Times reported that journalist Alexei Venediktov wrote on his Telegram channel that he had asked Kremlin spokesman Dmitry Peskov about the cancer rumors.
"Fiction and untruth," Peskov told Venediktov, which prompted the journalist to specifically ask if it was correct to say that Putin does not have cancer.
"Correct," Peskov answered, according to The Moscow Times.
Newsweek reached out to the Russian Foreign Ministry for comment.


[ad_2]

Source link